How to Add a strength Coach to your Department
How to Add a Strength & Conditioning Coach
I have done my best to bring up issues that strength & conditioning coaches at the small school level have had to deal with. Most of the time I have tried to offer strategies to help alleviate logistical issues. One post that was turned into an article was The Sad State of DIII Strength & Conditioning which opened some eyes, although it probably didn't provide any suggestions or solutions on how to deal with the issues.
One of the biggest problems that small school S&C coaches have to face deals with staffing. The easiest solution to this is sometimes adding interns. Because the field is so saturated, coaches often get away with adding free help. The downside is that you get what you pay for. Interns are usually never in a situation where they possess enough experience or knowledge to be a coach. They are still learning and it is not fair to your athletes. They deserve better.
So how do you as a head strength & conditioning coach advocate for a paid assistant? In the same sense, how do you as an AD or sport coach advocate for a head strength & conditioning coach if you don't have one. The obstacle is always money. So there are two steps to attack this issue.
1. Raise money for an assistant
2. Justify the money raises is best suited for the addition of a strength coach.
Raising Money
Fundraisers can be a lot of work for not a lot of income. Donations will depend on donors and there is no way to bank on donations. The absolute best way is to endow a position. I always had a plan for adding 4 S&C interns for $28,000.
4 meal plans for $4000 per year
4 bedroom apt for $1000 per month
= $28,000
Ways to Justify Adding a Strength & Conditioning Coach to your Department
Before you start, you must do a few things in order to submit the proposal. Get all the coaches and athletic trainers on board. You would think this would be a no-brainer, but you will be surprised the resistance you may get from your own department. Some of the issues that will come up will be the same you will need to sell to the administrators. It is amazing how many coaches and ATCs do not see the value in a S&C program. Sad. Regardless, you will need a united front to convince the university to spend money.
These are in no particular order and some may apply to your situation and some will not. Hopefully some of these arguments will help your case.
1. Safety by way of a supervised and organized training program. Administrators are as worried more about liability than they are anything else. Ensuring athletes will be trained in a safer environment will be essential.
2. Reducing the Chance of Injury. This is something you will need to provide data to prove this. Most administrators won't make the connection between strength training and reducing injuries without data.
3. Increased Athletic Performance on the field, court, track, or in the pool. This is hopefully common-sense, but remember, most administrators do not have the background. Scientific data may help in this case as well, but using analogies can also help. Equating and emulating DI and National team protocols can be helpful to communicate the why.
4. Adding 1 strength coach is the equivalent of adding a part-time assistant to every team. This is a hard concept to communicate and I realize it doesn't actually work out exactly this way. But a strength coach who is qualified to coach all teams will essentially be assisting all teams. There will be coaches that feel their sport deserves another full-time assistant coach. Again united front. Communicate that one addition to the department will help every team.
5. Nutrition Counseling. This is usually a missing component in many athletic departments. Most can't afford to contract a registered
6. Facility Monitoring. Supervising athletes and supervising the weight room go hand in hand. Hopefully you have a seperate facility for athletes, but wither way, monitoring the student weightroom can add value on non-peak times.
7. Teaching of Activity Classes. Small schools want to sap as much responsibilities out of each of their coaches as they can. Teaching classes, especially at a liberal arts college, usually coincides with the mission of the university. Teaching those classes can add to the total experiences of all students. Remember, always ask, "What value will this provide the entire university?" Adding classes takes another step to add in the catalog, but will provide more worth to the position.
8. Recruiting. If you are a small DII or DIII school and you have a full-time strength coach, you are in the minority. This can seperate you from the competitors. Second, and more important, this frees up time for assistant sport coaches to be on the road recruiting. Remember, the same time of the year that is the most important for recruiting will be the most important for training. Most coaches are on the road recruiting during the off-season cycle.
9. Health, Wellness, and Personal training. Being associated with HR (health & wellness) or Recreation (personal training) can add more responsibility, but can be the final step in creating a position. Depending on where the money comes from, if it benefits the university outside of athletics as well, you may have a winner.
I hope this all helped in some way. Feel free to send questions if there are specific issues:
---
Mark Watts is a fifth grade school teacher and U8 Girls Soccer Coach in Columbus, Ohio. Formerly, Watts was the Director of Education at elitefts.com and the host of the Elitefts Sports Performance Podcast. He has a Masters Degree in Exercise Science & Health Promotion from California University of PA and a Masters Degree in Elementary Education from Clarion University of PA. He has held professional certifications through the NSCA, CSCCa, NASM, and USAW. Watts has worked with college athletes in over 20 different sports at the Division I, II & III levels for over 15 years as a strength & conditioning and/or football coach at institutions such as Denison University, The United States Military Academy at West Point, Allegheny College and Clarion University. He has also completed internships at The Ohio State University and the University of Tulsa. Watts played college football at Clarion University and has competed in powerlifting, strongman, and Olympic Weightlifting. He is originally from Pittsburgh, PA and is a United States Marine Corps veteran.
Articles by Mark Watts
Olympic Lifting for Athletes: Using Static Holds to Improve Technique
Head Games: Training the Neck to Reduce Concussions
The Fastest Sport on Ice: Things You Don't Know About Bobsled
Tips to Crush the Combine Tests
An In-Season Training Guide for Baseball Pitchers
Individual Training in a Team Setting
Off-Season Training for Football (with 8-Week Program)
What is Really Wrong with Strength and Conditioning
The Last Sports Performance Podcast
Olympic Lifting for Athletic Performance
Bringing Westside to West Point
The Evolution of a Strength Coach: The 4 Stages of Maturity
The Four Essential Steps Your Athletes Need to Take
What We Can Do Better for Youth Sports
Why Strength Coaches Quit and Why the People that Hired them Don't Care
Sports Performance Coach Education Series
WATCH: How to Find a Strength and Conditioning Job
WATCH: Becoming a Mentor to Young Coaches
WATCH: The Four-Step Coaching Process
WATCH: 5 Strategies to Perform More Work in Less Time
WATCH: Why Communication is Key to a Better Coaching Career
WATCH: A Better Way to Train High School Athletes
WATCH: How to Implement Auto-Regulatory Training in a Team Setting
WATCH: Pre-Workout Circuits to Optimize Training Time and Maximize Performance
WATCH: Hypertrophy Circuits for Athletes in a Team Setting
Coaches Clinics 
WATCH: Two Bench Press Mechanical Drop-Sets for Hypertrophy
WATCH: Two Lateral Speed Drills with Bands to Improve Change of Direction
WATCH: Adjusting the Glute-Ham Raise to Optimize Your Training
WATCH: Basic Linear Speed Acceleration Drills in a Team Setting
WATCH: Kettlebell Training for Team Sports
---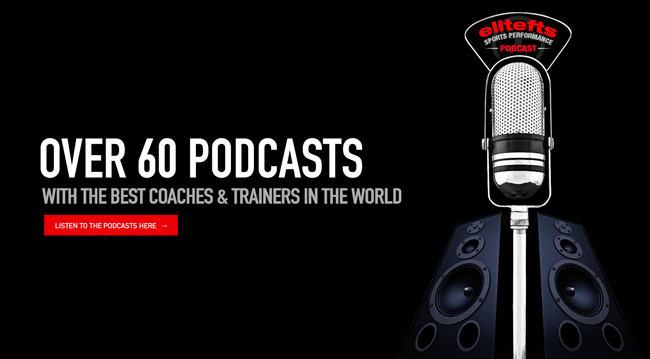 Loading Comments...