A Very Ladewski LTT, Part II
Friday morning came, and we arrived at the compound around 8:15 a.m. with Tim Horton's coffee in hand, of course. While the attendees checked in, the lifters and speakers found their place around the incredibly awesome elitefts™ table. This time around, I was actually able to listen to the speakers without being dragged into the dungeon of doom (aka: the elitefts™ basement) for interviews.
Dave Tate spoke on the conjugate training, and while I've been doing conjugate training almost my entire powerlifting career, he made some really great points.
Recap: Using a perceived max for that training day can help you make the adjustment you need based on how you feel for that particular day.
John Meadows (who I missed last time) spoke on his very own Mountain Dog Training. It was very interesting to hear how he puts his training together for the most size and mass. He's a super smart guy and is as nice as he is jacked.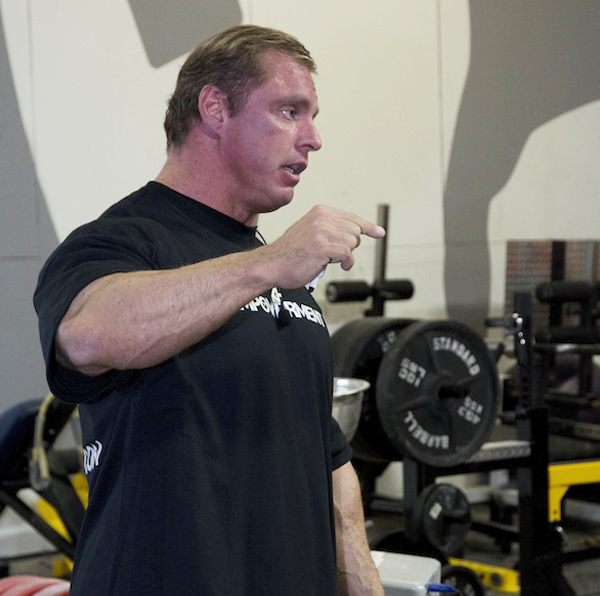 Recap: If the nutrition around your training session is dead on, that's 80% of the battle.
J.L. Holdsworth spoke next about training athletes. I've known J.L. for several years, since his days at Westside, and now he has his own place training youth (mostly high school) kids. Another smart guy.
Recap: Kids move like sh**.
Lunch was awesome as usual: BBQ beef brisket and some green beans. Eaten, of course, while chatting with the attendees and talking elitefts™ and Carb Back-Loading. I did meet some very cool attendees who said that their wives/girlfriends are big fans... Okay, men, you need to BRING your wives/girlfriends with you! While it's very cool to have a bunch of strong guys around, we want your strong women too!
The afternoon session started off with Dr. Eric Serrano. This was my first time seeing Dr. Serrano, and he's very very intelligent. He works closely with many of the lifters in the area.
Recap: Do his crazy exercises, and you'll be dead.
Mike Robertson. (aka: Mike Rob. MR.) We go way back to the good ol' days of Ball State powerlifting 2001. Shoot... Mike is awesome, and I did a full assessment with him. Mike talked about what joints need stability and what joints need mobility.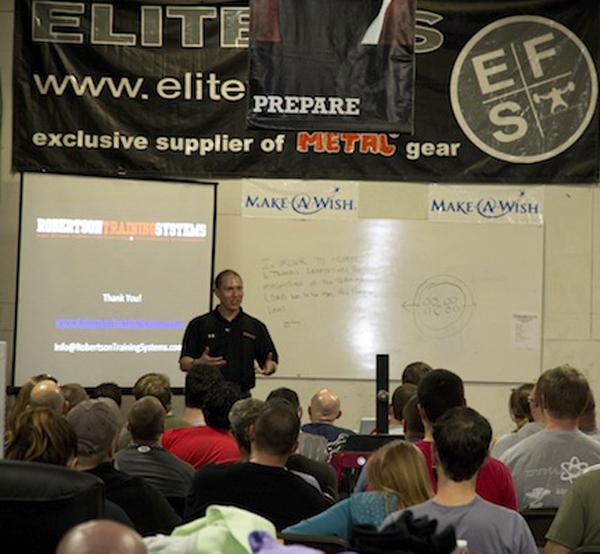 Recap: As a powerlifter, you should focus on the mobility of the hips, thoracic spine, and shoulder. And breathe properly.
Harry Selkow finished the day off with a whole lot of awesome. He rambled something about savoring every moment. I won't tell him this, but I had to leave about halfway through because the photographer wanted some pics of Molly Galbraith and I pushing the Prowler®.
Recap: YOU are awesome. All these elitefts™ dudes are smart.
After all the speakers were done, we headed to Der Dutchman— a restaurant/gift shop/bakery that puts our PIE on the table WITH the salad. I tell ya... it was hard to not eat the pie first. I chose carefully and sat down in front of a chocolate french silk piece. I ended up sitting next to Shane Church and his lovely wife, Shannon; my co-worker, Angie, who attended as my guest for the weekend; my hubby, Matt; and Dave Tate and Steve Colescott. Sitting by Dave at dinner is always a treat. Conversations quickly go from being absolutely hilarious, to involving gut-wrenching stories, to serious business talks in a matter of minutes. At one point, I looked around the room, then looked at Dave, and realized how fortunate I am to be a part of such a great company and team. Dave's passion of truly helping people is very evident in every word he speaks.
Just as we were finishing up our salads, some of the largest of the team members strolled in: Matt Kroc, Chad Walker, Zane Geeting, and Josh McMillan. Josh was wearing a horizontally striped shirt that made him look even bigger than he already is. And I'm pretty sure that the second Chad sat down, he ate his pie.
Sitting at dinner and listening to all of the stories is like being in a gold mine. As Harry would say, "this is where all the little drippings of incredibly good information come out."
We finished up the night by buying some iced pumpkin cookies from the bakery, and I managed to still eat two despite my belly being STUFFED from dinner. Then it was off to sleep on the rock hard motel bed... More to come in Part III!
Loading Comments...