Iron Subculture Podcast: JL Holdsworth's "Six Things That Really Piss Me Off!" (Episode #9))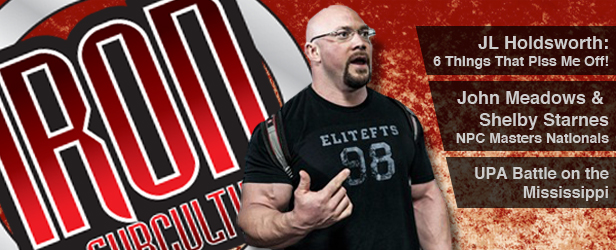 Iron Subculture Podcast #006

Due to all the prep involved in planning the Learn To Train Seminar (as well as some other projects), our podcast series was put on the back-burner. Some of the interviews are a bit dated, but still make for great listening. The sixth episode of the Iron Subculture Podcast kicks off with a mix of power, pro wrestling, bodybuilding and attitude. The show presents a mix of information and inspiration that is sure to drive you to the gym with renewed purpose.
SHOW NOTES
0:00       Recorded Intro
2:19        UPA Iron Battle on the Mississippi
10:51      Show ID (The Warrior)
11:44      NPC Masters Nationals
30:39     Show ID (AJ Roberts)
31:13      Interview with JL Holdsworth
120:36   Closing
              1 hour, 20 minutes, 45 seconds
Our feature guest is JL Holdsworth, athletic training expert, strength athlete and owner of The Spot Athletics. JL discusses "Six Things That Piss Me Off" about coaching and the strength and conditioning industry. JL skewers strength coaches that spurt out ten-dollar words but have no practical experience under the bar, mocks functional movements and chants his new mantra "I train people not apples!" This segment has plenty of great info.
John Meadows and Shelby Starnes both competed at the NPC Masters Nationals hoping to win an IFBB pro card in their respective classes (over-35 for Shelby and over-40 for John). Shelby won the overall and pro status, John left with a controversial second place in his class. In this interview, John discusses his thoughts on his placing, Shelby replies to allegations of a potential ineligibility scandal pertaining to his win and a special guest clears up the confusion. We also hear what the competitive future of these two gym warriors will include.
At this summer's UPA Battle on the Mississippi, the elitefts™ team represented well with Mick Manley, Marshall Johnson and Julia Ladewski all having great meets. They share their experiences and we also speak to promoter and UPA president bill Carpenter about future events. These three are going on to compete in future XPC and Relentless meets in order to top these numbers.
The podcast is not available for subscription on iTunes outside of the U.S. (Unfortunately, this is a limitation of the service that hosts our podcast feed). You can either listen to the podcast on the player we embedded here, or use on of the options below:
To subscribe through RSS feed: http://elitefts.libsyn.com/wrss
To subscribe through iTunes: http://itunes.apple.com/us/podcast/elitefts-iron-subculture/id512285639?ign-mpt=uo%3D4
LISTENER FEEDBACK LINE
After listening to the podcast, please call the Listener Feedback Hotline at 740.837.4143. Your comment may be played in a future episode of the podcast (your response may be edited for length). Please tell me what things you liked about the podcast, what areas you feel need improvement, and what guests and topics you would like covered in future episodes. If your comment is played during a future episode you will receive a free elitefts™ t-shirt!
Loading Comments...