My Trip to Learn To Train 5

This is the story of the rest of my life... Okay, it's the tale of the best weekend of my existence! During the first weekend of October, Shannon and I went to the Learn To Train seminar in London, Ohio, at the elitefts™ compound. There, we met some of the greatest minds and best people in lifting, training, and in life.
The Drive
We did not get started on a solid foot. The night before we left, Shannon came down with a nasty, nasty flu and could barely breathe. (This was on top of the fact that she is carrying a baby). Still, we went to bed early with the intention of leaving early so that Shannon could sleep a big part of the way. Well... the little kid came out in me, and I was out of bed at 2:45 a.m. and had the car packed and ready to travel by 3 a.m. After trying to "nicely" wake Shannon at 3:15 a.m., we were ready to go by 3:55 a.m.! That's a great time for Shannon getting ready. The flu actually played to my favor for the drive down. Shannon was so tired and wiped out that she slept for about eight hours of the eleven-hour drive. In turn, it also magically made her feel better by the time we got to the hotel! The rest of the night was pretty uneventful and quiet. However, we were excited to find out the Chad Walker was benching at the compound early on Friday and we could be a part of it!
Friday
I was up super early again, but that's not surprising considering how damn excited I was! While the bench was going down at 7 a.m., I was ready to go at 5:30 a.m. despite the fact that I wasn't even lifting. Shannon and I headed for breakfast (it sucked), and then we were off to the compound to meet The Eclipse and the boys for the session. My fellow Canuck, Richard Brown, beat me there to see the lifting go down. The difference, though, was that I got to be a part of it all and Richard could only watch. Chad was there lifting, as well as Marshall "the Freakshow" Johnson, his wife Kathy, Matt Kroc, Josh McMillan... and probably more people that I can't remember.
Saturday
I have never been so pumped to wake up at 5 a.m. on a Saturday in my life. I was up 10 minutes before my alarm.
Squatting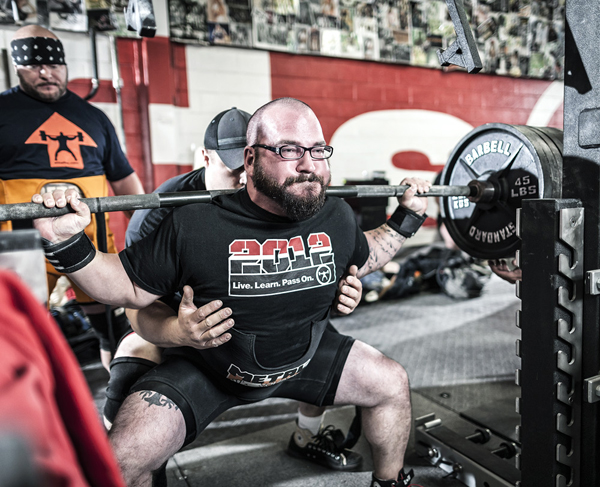 This is what I was most looking forward to when I signed up: squatting with some badass lifters in a kick-ass gym with Dave Tate watching and critiquing our form. I was in a group with Chad Walker, Marshall Johnson, Joey Smith, his training partner, Tim, Josh McMillan, and a couple of other guys. (I'm sorry I can't remember your name!)
Warm ups went:
Bar x 10
1 plate x 5
2 plates x 3
3 plates x 3
4 plates x 2
5 plates x 1
6 plates x 1 (Ace "briefs" added)
7 plates x 1
8 plates x 1
9 plates x 1 (first time in my new Krait Knee Wraps)
10 plates x 1
This ended up being 960 pounds with the squat bar! That ties a full meet PR. It was such an incredible atmosphere—everyone was pumped up and smashing big weights, and a lot of the seminar attendees came in early to watch. You could feel the energy in the room!
I was also so pumped to have tied Chad Walker with the rep! Chad is one of the most genuinely nice people that I have ever met. Neither one of us had an advantage because Shannon wrapped both of our knees. She is the definition of badass! Marshall Johnson was also in the squat-off. It was actually his idea I believe. I am so lucky to have had the chance to be a part of such great event!

Learn To Train Practical Day
For the first twenty minutes or so, I was still fuzzy-headed from the super heavy squat session. Lucky for me, I was in a group of teachers that are straight-up geniuses!  Julia and Matt Ladewski and Harry Selkow made it really easy for me to get my wits about me before talking. We went through squats, bench, and deadlifts—going through everything from setup, to squatting, and everything in between. We covered the same ideas we all learned from the great speakers the day before. This process turned out to be the even more amazing than I could have imagined. Teaching people about the lifts is fun and enjoyable for me, but having people that truly want to get better and listen intently is an incredible experience! The highlights of the teaching experience for me was talking to Brandon Smitley about his 300-pound bench goals, and then going to the sweet elitefts™ Comp Bench and having him SMASH 300 like it owed him money!
Hanging out
After everyone learned everything they could, the attendees made their way back home to Live, Learn, and Pass on. For those of us that stayed, elitefts™ provided us a pizza feast. This was yet ANOTHER great experience for me, and not because of the pizza. I got a chance to hang out and shoot the shit with the elitefts™ sponsored lifters. Shannon and I got a chance to talk to Joey Smith for almost two hours. This one conversation with Joey was worth almost more than anything that I learned at the compound. We talked about everything but lifting, and Shannon and I got to know Joey on a whole other level. I won't repeat the stories that he shared on here, but let's just say I was on the verge of crying four times during the conversation. Joey is passionate about lifting, but even more so, he is passionate about his daughter. Thank you, Joey for that conversation.
Shannon and I left the compound at around 9 p.m. and promptly went to bed because we were wiped!
Sunday
Benching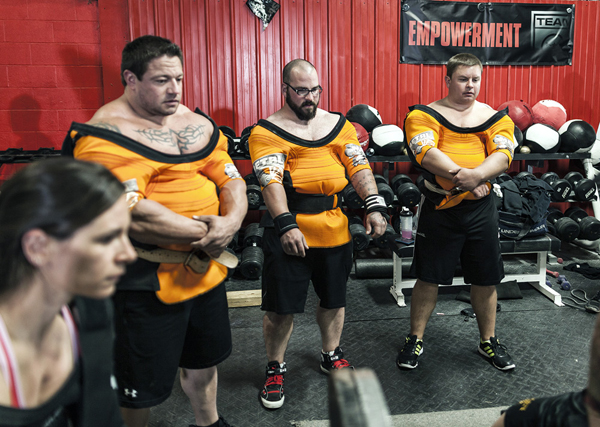 This is what I was looking forward to the least because I suck at bench and most of these guys can bench raw what I do in a shirt. I worked up to 650 pounds, and it went pretty smoothly. I learned a lot of things that I'm going to implement in my training back home. Then, after a round of good byes to a bunch of new besties, Shannon and I were on the road back home.
The drive home
It was actually not a bad drive back—Steve Colescott from elitefts™ comped me a case of Spike, and I was F'ING WIRED for the drive home.
Shannon learned so much over the weekend, and both of us wanted to talk the whole trip back, which was great for me driving since it made the trip seem much faster!
Thank You
I have a ton of thank yous to give to people that helped make this happen. First and most important, thank you Shannon. I could not do anything without you. Your support means more to me than I can ever tell you. I love you. Second and also important, thank you Dave Tate and Steve Colescott. Without their tireless efforts and hard work, none of this weekend would have happened! And then there is the rest of the elitefts™ team. From the lifters and their families, to the people who man the office and website and make elitefts™ the force on education that it is now, Thank You for all your hard work and dedication to the logs and Q&A!
Loading Comments...