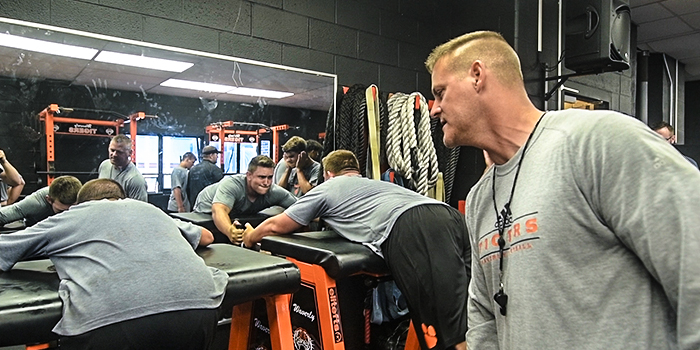 Interviews by Sheena Leedham and filmed by Josh Goedker
---
As an alum of Waverly High School in Waverly, Ohio, Board of Education President Josh Hobbs has a strong connection to the school and a mission to ensure that athletic programs are designed to empower and protect the student body. By implementing a comprehensive strength training program under the direction of Head Football Coach Chris Crabtree, Waverly High School has seen improvements in student-athlete performance and an overall decline in injuries.
---
RELATED: Transforming Strength and Conditioning at Livonia High School
---
This strength training program, made possible with customized weight room equipment from elitefts, is a case study of what schools can achieve when they have the right tools.
"This program has been great to reduce the amount of injuries and just make our kids healthier overall. Obviously one of the reasons you lift as an athlete is to get stronger and more powerful, but it also ultimately helps reduce injury." 
Raising the Bar at Waverly High School — Josh Hobbs on the Strength Training Program Vision
Initial Challenges
In the past, Waverly High School tended to rely more on athleticism as opposed to formal strength training as a means to compete in sports. However, over time this approach led to an increase in both the amount and the frequency of student injuries, causing many of the school's most talented athletes to be sidelined.
To enable its best athletes to play multiple sports, Waverly needed to design a program that better served the two-sport and three-sport athletes. At this point, students felt that they had to choose between strength training and participating in a sport. As a result, Waverly saw two patterns emerging within their athletics program: 1) athletes would choose to play fewer sports to allow more time to lift, or 2) athletes would lift in down times (like the summer) so they could play multiple sports during the year. The first pattern left the school without their best athletes; the second often led to injury.
"We needed to get our kids lifting more to deal with injuries…we just weren't as physical as we needed to be."
Having both personally invested significant time and energy in Waverly High School's athletics program, Crabtree and Hobbs identified these initial problems and set out together to solve them.
Strength Training Solution
The solution that Hobbs and Crabtree came up with was to implement a class that gives student-athletes the opportunity to lift year-round. By offering in-season, quality weight training classes, students would no longer have to choose between sports and lifting. This would also provide students with the strength training and conditioning necessary to proactively prevent injury. Not only would this help protect and equip athletes, but it would also contribute to the school's holistic vision for a healthier student body overall.
Buy-in for the Vision
This vision could not have become a reality without the buy-in of the school administration, the athletics coaching staff, and the students themselves. Coach Crabtree notes that Waverly is fortunate to have administration leaders that prioritize support for student-athletes, such as Josh Hobbs, who worked with the Board of Education to determine how to finance the initial program. With a budgetary commitment from the school district in place, combined with fund-raising and donations from local businesses, Waverly High School was able to make an initial investment in their strength training program. 
Trust in elitefts
When it came time to select an equipment partner for their weight room, Hobbs and Crabtree both looked to elitefts. In the past, Hobbs participated in Joe DeFranco's CPPS program, through which he came to learn about elitefts and trust in the quality of the equipment. Similarly, Coach Crabtree is a life-long fan of elitefts, having relied on their question and answer forum as a source for different training strategies and techniques throughout his coaching career.
Hobbs and Crabtree developed strong relationships with the elitefts team during the implementation of the strength training program. Hobbs worked closely with elitefts Sales Director Matt Goodwin to identify the proper equipment to meet the diverse needs of the students, and continues to consult him as the program grows. Coach Crabtree coordinated with elitefts Equipment Specialist and Conjugate U author Nate Harvey to conduct seminars to educate Waverly staff and students on the importance of the strength training program.
Addressing Student Limitations
With regard to meeting student needs in the weight room, Hobbs notes that there is not a "one size fits all" approach. Although the class does serve many football players, it also serves athletes across other sports, and even students not enrolled in a school sport that are simply interested in strength-training. Furthermore, Hobbs and Crabtree want to address other limitations or preexisting issues that students may have coming into high school in general.
Some students start out in the program with poor posture, tight hip-flexors, weak glutes, or even the inability to do push-ups and other basic movements. The range of elitefts equipment in the weight room helps Waverly support students with different limitations that can predispose them to injury. Whether students have to use a belt squat, a specialty bar bench, or whether they can only goblet squat, Waverly is able to accommodate them so they can train safely. Even when it comes to bouncing back from an injury, Coach Crabtree has seen students successfully accelerate the road to recovery with the support of the strength training curriculum.
"You only have so much time with these kids, so you have to make the most of it. That's where the use of specialty bars and other equipment comes in and allows us to be able to accommodate whatever student issues there might be." 
Look Good, Feel Good, Play Good
The ability to customize the elitefts equipment to reflect Waverly High School's strong sense of Tiger pride went a long way with generating student excitement and buy-in. According to Hobbs, customization is a modern-day student expectation. The ability of elitefts to personalize equipment and uniforms with graphics, the school colors of orange and black, and the tiger mascot, gave students a sense of ownership in the weight room. Hobbs reports that the students were so thrilled, they actually helped offload the first order of elitefts equipment that arrived.
"Look good, feel good, play good is my motto…a bland grey rack with nothing on it maybe doesn't really matter in the end, but these kids see their team logo on it, they see the orange and black colors…they were extremely excited when this all was delivered." 
Strength Training Programming
Under the direction of Coach Crabtree, Waverly High School's strength training program serves athletes as well as those not enrolled in school sports. With regard to the students that don't participate in sports, Crabtree's goal is to provide them with an introduction to the basics by teaching them the fundamentals of strength training and conditioning. Even if they are just going to lift for personal fitness purposes later on in life, he believes that those students can still benefit from the class. Having basic training on the proper way to squat, bench, and deadlift will ultimately help students train safely and proactively prevent injury — whether at school, or at their local gym.
When it comes to student-athletes that participate in the class, Crabtree sees a huge benefit of strength training across multiple sports. Although he does work with a number of football players, equipping athletes that compete in other sports will ultimately help coaching staff across the board. By developing well-rounded, multi-dimensional athletes, coaches will be able to spend less time educating their students on the fundamentals of lifting, and more time fine-tuning performance for their particular sport.
Raising the Bar at Waverly High School — Coach Chris Crabtree on Strength Training Programming
Promoting a Culture of Health
The results that Coach Crabtree has seen since the program was implemented are promising. Not only have athletes grown stronger, more powerful, and more explosive in their respective sports, the number of overall injuries has declined as well. In before-and-after broad jump tests that were conducted, Coach Crabtree saw a 4-6-inch increase. He's also seen some students put on 5-7 pounds as they grow in muscle and strength.
Yet, perhaps the most promising result from the implementation of this program is progress towards a culture of health for the student body as a whole. This proactive strength mindset and preventative approach to injury aligns with Waverly's notion that "best" is the standard. As student health on and off the field continues to improve, it would be wise for other schools to follow in their footsteps.
"In our culture, we have three main things: no excuses, relentless effort, and Tiger pride. As you saw in the weight room, 'best' is the standard…and it's not the person next to you, it's your best, each and every day…that's what we've tried to apply in our weight room as well. We're trying to teach our kids to work hard and hold others accountable." 
Tiger Pride with elitefts
Given the success of the strength training program, Waverly High School is working with elitefts to determine how they can accommodate a growing number of students in class. Hobbs mentions racks, posterior chain equipment where students can do assistance work, another round of specialty bars, and a new belt squat as the key elitefts items on his list to order for next year.
Hobbs notes that students are always excited whenever they see a new piece of equipment in the weight room. As more students register for the class and the range of elitefts equipment grows to accommodate them, the excitement is clearly set to continue.
Some elitefts Equipment at Waverly High School:
EZ Chain Loaders
EZ Dead Loaders