Bodybuilding, Coaching, Motivation, Powerlifting, Program Design, Training, Workouts & Programs
THREE DAYS LEFT — Win 12 Weeks of Free Online Training from Team Elitefts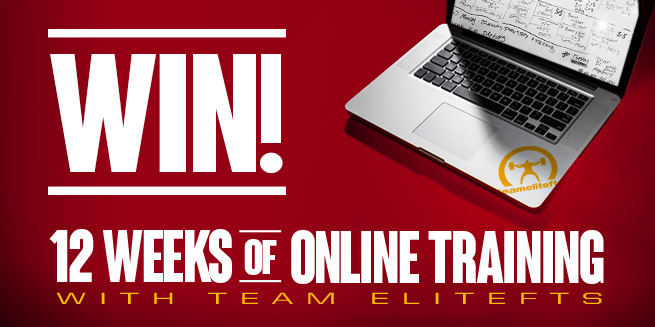 NO PURCHASE NECESSARY
---
FOUR WINNERS WILL BE SELECTED
There will be FOUR winners and the value of this is around $450.00 (some coaches charge more than others).
Regardless of your training needs we have a coach for you, or the coach wouldn't be on Team Elitefts. We know they will exceed your expectations.
PARTICIPATING COACHES

Participating Coaches (*click names to see full bios):
Here's how this will work: 
First Winner Selected — Select from any one person listed above.
Second Winner Selected — Select from all the remaining coaches after first winner's choice.
Third Winner Selected — Select from all remaining after winners one and two.
Fourth Winner Selected - Select from all remaining after winners one, two, and three.
SPECIALIZING IN
We've selected a variety of  coaches with different areas for expertise including, mulit-ply and raw powerlifting, bodybuilding, physique, figure, life coaching, sports strength and conditioning, physical therapy and rehab, kettlebell sport, strongman, and general strength training.
ADDED VALUE
An added value of this is you don't have to vet out to determine if  the coach is good or bad. We've already done this and while elitefts doesn't sell "online training" and doesn't receive any percentage of our teams online training sales, we will stand behind them with this offer, making this even more attractive.
EVEN MORE VALUE
First, it's free to enter and to win.
Second, if you win and do what you are asked and are unhappy with the coach, we will give you store credit worth the value of the service.
This is how confident we are in our team members and their ability to deliver. You rarely, if ever, will find a money-back guarantee on training services you pay for.
This is a money back offer on a service you will have the ability to win for FREE.
Loading Comments...