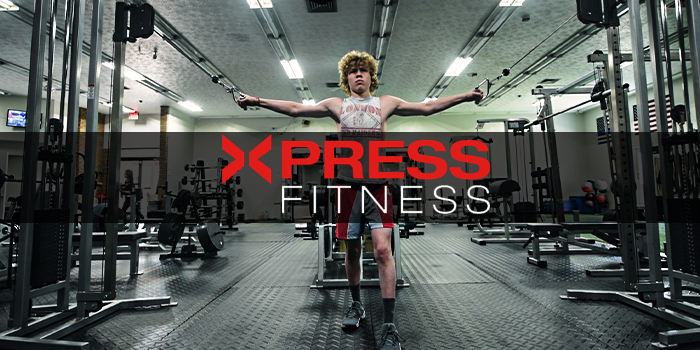 Interview by Sheena Leedham, written by Sydney Schulte, & filmed by Josh Goedker and Dominic Stacer
---
"Hi, I'm Laura Miller and my husband Matt and I own Xpress Fitness."
Xpress Fitness is about one and a half miles down the road from the S5 Compound in London, Ohio — a testament to the 10,000-person-populated town's appreciation for supporting local businesses and staying active.
This gym started about four and a half years ago when Randy Miller, Matt's relative, started the gym. He wanted a local place for people in the area to come and do group classes, kickboxing, cardio, free weight, and more.
Laura and Matt decided to buy the gym from Randy within the first year, though Matt's first reaction was no; Laura, on the other hand, felt strongly about this gym as a great opportunity:
"I'm very passionate about weight training. I had some health issues five years ago and Xpress was the first gym that I joined after those health issues. Every doctor I saw after that was like, 'The only reason you're here is because you're strong and you're fit.' So I felt it was important to be able to continue what we had started, and I wanted to be able to take it another level."
The Location
In order to grow the gym and make it more competitive, Laura needed more space and higher ceilings while maintaining amenities such as air conditioning and bathrooms. That proved to be a challenge, but she found a new location after driving around London at buildings and considered their size and cost. Then she'd check the Madison County Auditor's Office website for further information about the building's layout, its history, and so on.
Xpress Fitness looks a little rough on the outside, but make no mistake: there's some really nice equipment on the inside and cool history, too. It was last used as a print shop, and before that, a hardware store, with a lumberyard across the street. The print shop had built walls up to keep the heat in, but those walls work perfectly for a big gym and class area.
Serving a General Population with a Variety of Needs
At this gym, Laura serves all kinds of people, though general population tends to be the focus:
"You've got the high school students versus the student-athletes, and that's kind of been more of our focus."
The goal is to empower individuals and athletes to meet and exceed their training goals — or to simplify that mission statement, it's about helping people get stronger and better in many forms. After all, not everyone wants to lift weights. Sometimes they want to take a cardio or kickboxing class instead. Being able to offer multiple kinds of fitness activities at the same time under the same roof was something Laura looked at when finding a new location, and she sure found it.
Including Laura, are three personal trainers at Xpress Fitness. Laura's favorite group to work with is student-athletes. Maybe that's because she has a client who's signed to play baseball in college, and she also trains a collegiate cheerleader.
Special needs clients' needs are also met at Xpress Fitness, where Laura's seen people she's worked with really come out of their shells. The fact that Xpress has been such a welcoming place to those clients is important and both Laura and the community she serves.
Aside from personal training, Xpress Fitness also offers a wide variety of services like group classes, massage therapy, and boot camps. There are yoga classes, kickboxing classes, Pilates classes, Zumba classes, and so on.
One great feature of Xpress Fitness is that it's not member-only; members of the public are more than welcome to drop in and join classes. Laura notes there are no drop-in opportunities for the gym side.
For the Family
The first gym Laura went to was a Gold's Gym, in 1989 or 1990. It definitely had a bodybuilding environment, but the folks who worked there were customer service-oriented. They knew your name when you walked in the door and were always willing to help, and that made a huge difference to Laura.
That Gold's Gym felt family-friendly to her, and that's the type of environment Laura strives to create at Xpress Fitness. Feeling welcome is something she really appreciated, so she does all she can to ensure clients feel welcome when they walk through the door.
"I believe a lot of our clientele is because we live here, we work here, our kids go to school here, a number of the student-athletes I work with is because I've done volunteer work at the high school, so family is important to us. We obviously have the gym because a family member started it. Being strong saved us, and that saved our family, certainly, as well. I think when people come in here they get to be friendly with everybody because we are a smaller gym, and they do feel like it's a gym family and you pretty ask anyone who comes in here, they will tell you they feel like it's a family when they come into this gym."
(Not-So) Bad Reputation
One thing people might not know about Laura is that she is in a band. She's a guitar player and has been playing since she was about 16 years old.
Looking back, she was fortunate that her father trusted her enough to go out and play at bars and opened up for hardcore bands when she through ages 16 to 18.
"I got into lifting when I was about 19, and I think what got me to decide to stay lifting is that I wanted to be more fit and I wanted to look more jacked and a little bit more aggressive because I played aggressive music."
A Tour
If you walk into Xpress Fitness, the first thing you'll see is cardio equipment. Laura says this is intentional due to the amount of "aggressive" weight equipment from elitefts, and it's intimidating to some of the female clients. So by putting cardio equipment out in the front, fewer clients will be scared away.
The cardio area leads you to the gym. If you go through the doors on the other side, you'll find the group class area and the functional area with kickboxing equipment. Turf goes all the way to the back of the gym to keep the foot traffic off of it.
The elitefts Experience
Randy Miller, the first owner of Xpress Fitness, had chosen to use elitefts equipment originally.
When Laura took over, she was very impressed with the equipment and resources that were available through elitefts.
And while the equipment was absolutely fantastic, it was really the education side that elitefts offers that sold Laura on the company.
"It's the seminars that I think are very impressive."
She attended an elitefts Sports Performance Seminar at the old elitefts compound as well as a Sports Summit. At these events, she learned things that helped her become a better coach and athlete from Swede, Casey Williams, JL Holdsworth, and others.
The business seminars are also, in her words, "fantastic." She remembers going to one where Joe DeFranco presented, and that presentation hit close to home:
"One of the things he talked about is that folks who become your clients are folks that will know you, they will like you, and they will trust you. And I think that is very true because we're in a small town, and the people who are coming in here are people who know us, they like us, they trust us. Moms and dads don't hand their kids off to somebody to train them who they don't have that confidence in, and I feel very honored to have gained that confidence."
Laura can say with confidence that after two days at these seminars, she's never been the same, and for all her training, her clients have never been the same — and that change has been for the good.
Some elitefts Equipment at Xpress Fitness
See a Need, Fill a Need: Training the High School Volleyball Team
Laura's kids were always involved in sports. Her son signed on to play baseball in college. Her daughters played volleyball in high school, which meant they were constantly in the weight room — and coaches don't always know what the kids should be doing in the weight room.
So she would help the volleyball team out in the weight room or take them to her home gym or to Xpress Fitness from time to time.
"It was clear to me early on that none of those girls had what they needed, and I had offered to the coach if they would need a strength training person, that I would be happy to offer some services."
For about four years, Laura has done just that on a volunteer basis, and she believes this year will be the best year yet.
Advice
If Laura has any advice to give to future gym owners, it's to buy from elitefts.
Her more serious answer, however, is to create a plan, set goals, and figure out the best way to meet those goals.
The current goal she has for Xpress Fitness is to hire two more personal trainers and try a different business model for those trainers. She also hopes to add more yoga classes, better utilize the group training area, and add more strength and conditioning opportunities to clients.
Most importantly, she wants to empower women in the weight room. She's done it with the kids in the community, so she knows she'll be able to get more women in the gym area of Xpress Fitness.
For More Information
To learn more about Xpress Fitness' class schedule, rates, and more, visit xpressfitnessohio.com or send an email to xpressfitnessohio@gmail.com.