Editor's Letter for November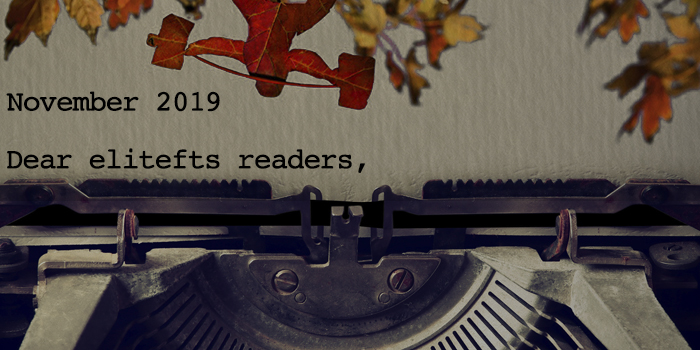 Welcome to elitefts, where you'll learn more from our pool of the smartest and strongest columnists, coaches, and athletes!
Thanks to the following outside submission authors who will also be featured this month: Max Barnhart, Charles Dudley, Chris Marzarella, Seth Albersworth, Pete Arroyo, and Scott Mendelson and Eric Serrano. If you would like to contribute an article for elitefts to review and potentially publish, click here to learn more.
Here's a weekly preview of some of the content we have scheduled for you this November along with what articles, blogs, and logs were the most popular for October.
Happy Thanksgiving!

Week 1
Skip Hill compiles 35 years of gym training to explain why your chest development sucks. He's narrowed it down to five areas: workload, intensity, form, exercise selection, and the bench press. Use this article to pinpoint the area you're neglecting or annihilating to promise growth. Read now! 
Stefan Waltersson suggests alternating your heavy squats with belt squats every now and then to recover faster without injury. Did you know we have a variety of belt squat models to choose from? Here are a few options: Tiger Belt Squat, Pit Shark, Belt Squat Machine, and the Custom Plate Loaded Belt Squat.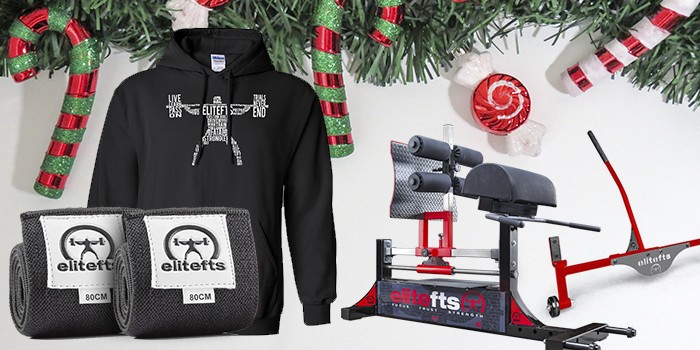 Share your Christmas list with us for a chance of winning $500! Published wishlists will receive $50 of elitefts store credit. Read contest details here!
More this week:
Week 2
Jordan Shallow joins us at elitefts to train, teach, and upload another Table Talk Podcast. This month, he'll also be writing on the topic of bands and why they shouldn't be your go-to for strengthening your rotator cuffs. Have a specific topic you'd like for him to cover while he's here? Tell us!
Dave Tate updates Bryan Krahn's "Price of the Platform." Remember Keith, Charlie, Eddie, and Giles? See how their lives have changed since this 2014 publication.
More this week:
Week 3
JM Blakley breaks down nutrition to its origin (perhaps the steak you're grilling tonight came from a country like Argentina) in an exploration similar to his July publication written about the mind-muscle connection.
JM will also be joining the Table Talk Podcast for a second time, traveling from Youngstown, Ohio. Be sure to join in the conversation by asking a question on IG or YouTube for JM to answer.
More this week:
Week 4
After 20 years as a strength and conditioning coach, Todd Hamer begins a new chapter as general manager of Union Fitness, located in Pittsburgh, Pennsylvania. Read about where he feels strength and conditioning is going as a profession.
Eric Serrano and Scott Mendelson create an alternative to sissy squats. Even if you have access to an elitefts Deluxe Sissy Squat Stand, you'll want to give this quad burner a try.
More this week:
Across elitefts Social Media Channels
people who aren't losing any weight be like pic.twitter.com/XHBfqXrBh0

— Team Elitefts (@elitefts) October 22, 2019
Keep up with the newest elitefts articles on Twitter as well as the occasional meme. Feel free to give us a shout-out, and we'll do our best to respond to you there directly.
View this post on Instagram
On Instagram, read the 25+ microblogs you missed in October, watch and attempt the weekly exercises with Mark Dugdale, ask questions for upcoming Table Talk guests, and tune in for the team's AMA schedule.
On YouTube, watch interviews, podcasts, podcasts clips, training, I AM features, product spotlights, tutorials, featured gyms, and more! Don't forget to subscribe so you don't miss any of the fun.
Content by the Numbers
Articles — 8,617
Coaching Blogs — 7,543
Athlete Logs — 12,936
Videos — 2,545
Full Seminar Videos — 19
Archived Q&A— 700,000
Archived Logs — 350,000
Table Talk Podcasts — 35
Sports Performance Podcast — 64
Instagram — over 1,000 team elitefts AMAs per week
Pro Training Logs — 13
Coaching Blogs — 18
Team Columnists — 37
Digital Footprint — 14.5 million
Years in Business — 21
Team members are vetted for credibility, so you don't have to worry. No logins, membership fees, or subscriptions are required for content sponsored by elitefts.com. Cost to you: $0.00.
Live. Learn. Pass on.
@elitefts #elitefts
Check out October's Top-5 blogs, logs, and articles from your favorite columnists, coaches, and athletes: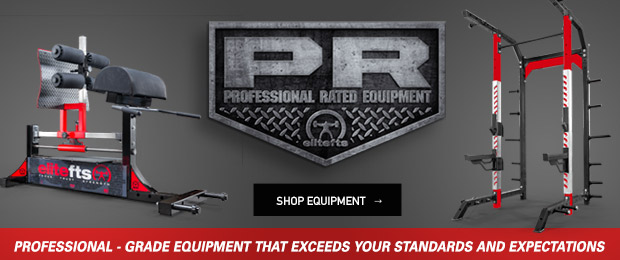 Loading Comments...