Editor's Letter for January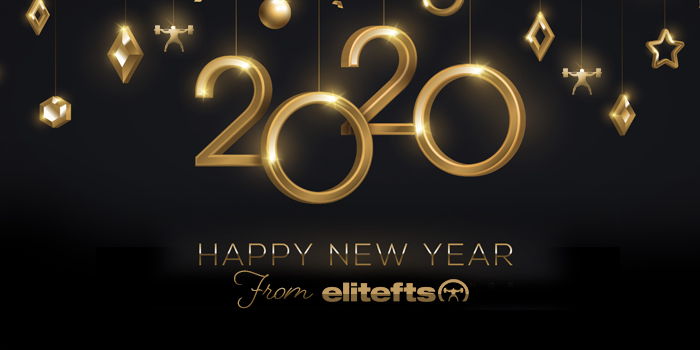 Happy New Year!
We're celebrating 21 years in the business. There were many shimmers of light throughout this past year, shining bright on our continued mission of educating and outfitting the strongest athletes in the world.
We're pleased to have the opportunity to share free content on a variety of platforms multiple times a day, every day. On the website, you'll find articles from team members, outside submissions, and coaching/training logs — a blend of content focused on powerlifting, strongman, bodybuilding, business, strength and conditioning, programming, special needs, and more. On Instagram, Facebook, Twitter, and YouTube, you'll find exclusive content — most of which you won't find on the website — along with posts announcing upcoming events, sales, and new content being released on the site. Be sure to subscribe and follow along!
Fun fact: Did you know we uploaded 73 programs/workouts to the website in 2019?
A year in review…
I AM
The I AM series that began late December continues strong. Guests including Joe Sullivan, Tyrel Detweiler, Ashley Jones, Vincent Dizenzo, Clint Darden, JM Blakely, and Jordan Shallow (publishing this month) sat down with us to talk about more than just their strength training feats, but also how they grew up, what they do outside of the gym, the legacy they hope to leave for their friends and family, and more.

Strong(er) Sports Training and Success Summit
We also can't forget the Strong(er) Sports Training and Success Summit where guests Buddy Morris, Dr. Eric Serrano, Julia Anto, Dr. Ken Kinakin, JL Holdsworth, Alwyn Cosgrove, and Joe Bennett shared the mic, covering topics on training stessor management, business, marketing, nutrition and supplementation considerations for athletes, the evolution of a strength coaches, you name it.
Team members in attendance added to our pool of content at this event:
View this post on Instagram
Table Talk Podcast
The Table Talk Podcast, now up to 40 episodes, was officially born. Sitting at the glass table top with Dave Tate, here are the guests we've had so far: Dan Green, Andrew Herbert, JL Holdsworth, Jim Wendler, Sheena Leedham, Joe Bennett, Tony Montgomery Jr., Dr. Ken Kinakin, Matt Rhodes, Kenny Patterson, Joe Sullivan, Janis Finkelman, JM Blakley, John Meadows, Phil Matusz, Cailer Woolam, Vincent Dizenzo, Leslie E. Thompson, Alwyn Cosgrove, Julia and Christian Anto, Justin Harris, Clint Darden, Casey Williams, Nate Harvey, Zach Thayer, Doug Heath, Nick Showman, Brian Alsruhe, Ross Kolodziej, and Jordan Shallow.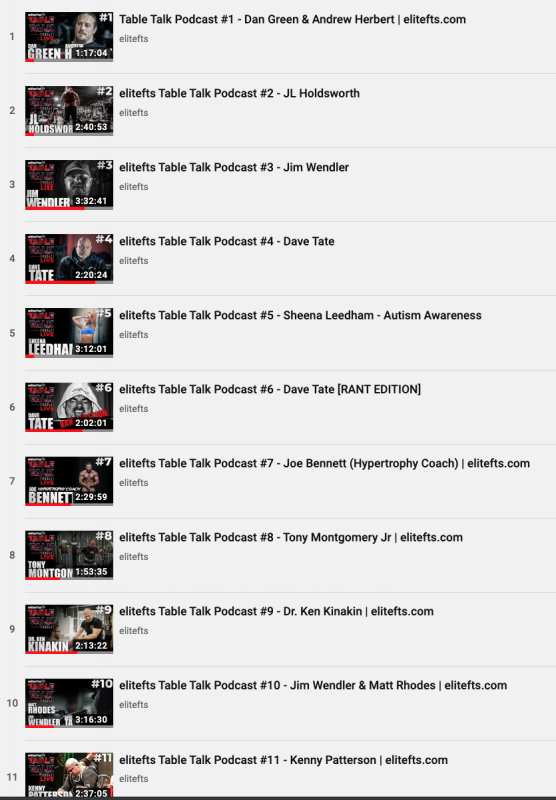 Dave Tate Trains Jujimufi and Tom!
Brian Alsruhe's Fighter Mentality
Brian Alsruhe broke down his fighter mentality and showed us how he sets up giant sets within his training. He revealed his training method and gave us a farmer's walk and atlas stone tutorial, along with a whiteboard lesson in how to incorporate strongman training into a powerlifting cycle.
New Additions
New columnists, coaches, and athletes representing elitefts including: Tony Montgomery, Jordan Shallow, JM Blakley, Andrew Herbert, Ryan Belcher, Anne Sheehan, and Dan Dalenberg.
elitefts UK Opens!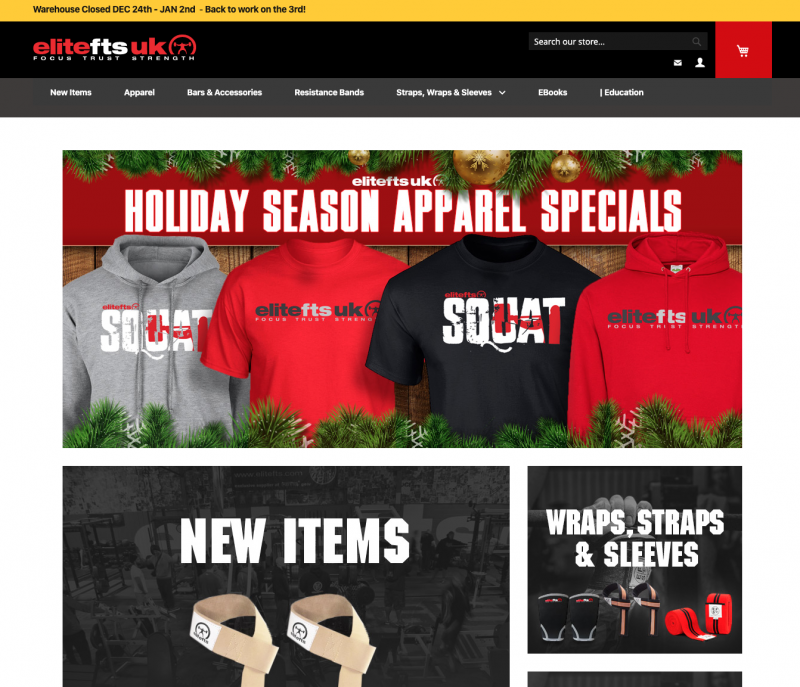 Interns at Work
elitefts interns Dominic Stacer, Owen Anderson, Zach Thayer learned a thing or a hundred of things about cameras and video/photograph editing.
Train Your Ass Off
Train Your Ass Off with Dave Tate originated. Check out the footage — you'll see a blend of education and torment. Note: More of these weekend torture fests coming soon.
As the series and events above continue to unfold and sophisticate into the new year alongside the content we're pouring out every day, feel free to discover below the top authors, athlete logs, coaching blogs, articles, and products of 2019. Congratulations on another successful year, everyone!
Top Columnists for 2019
Top Coaches for 2019
Top Athletes for 2019 
Top Articles for 2019
Top Coaching Blogs for 2019
Top Training Logs for 2019 
Top Products for 2019
Strength Equipment
Bars
Accessories
Apparel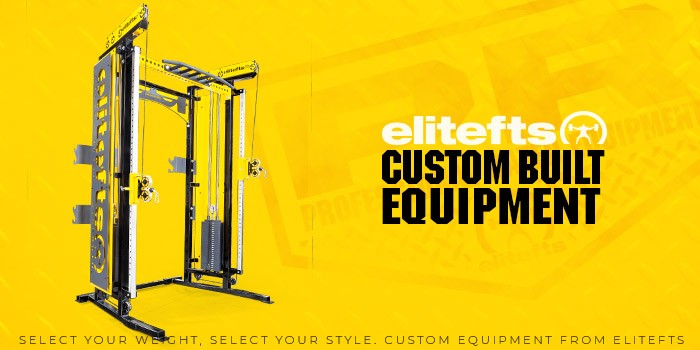 Loading Comments...